UNM BIG GIVE – TUESDAY, FEBRUARY 28 – DONATE TO LAII – ONLINE FUNDRAISING EVENT
February 24, 2023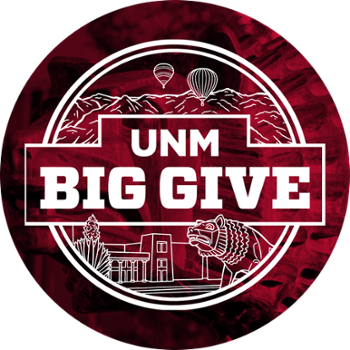 ---
The University of New Mexico announced last week it is preparing for UNM Big Give, an online fundraising event that will bring together UNM alumni and friends from across the globe to support a variety of academic, healthcare, athletic, cultural, and student programs that make up UNM's diverse and vibrant community. UNM Big Give combines The University of New Mexico Foundation Giving Tuesday, Athletics' Lobos Give Day, and UNMF Faculty and Staff campaign into one campaign.   
UNM Big Give begins Feb. 28 at 8 a.m. and continues for 1,889 minutes, in honor of UNM's founding in 1889, and concludes on March 1 at 3:30 p.m. Gift challenge and match opportunities are available.  All gifts are tax-deductible and can be designated to any fund/area at UNM. 
Earlier this week Dr. Frances Hayashida, Director of the Latin American and Iberian Institute, reached out to the LAII community to share how the department can benefit from this meaningful day. 
"On this day celebrating UNM Big Give, your gift to LAII will promote and deepen an understanding of and appreciation for Latin America and Iberia at UNM, across the nation, and around the world. Through our funding, UNM students learn new languages, travel to experience new cultures and ideas, carry out their first overseas fieldwork projects, and train to become the next generation of global scholars, professionals, and citizens.  UNM faculty launch innovative research projects, develop new courses, host colleagues from around the world, and travel to conferences to share their work with national and international audiences.  LAII hosts or co-sponsors a wide range of academic and public lectures, conferences, and community cultural events, and create culturally responsive curriculum for K-12 students and professional development opportunities for their teachers." 
Dr. Hayashida concluded, "All of this comes together through the support of our alumni and friends. Each gift makes a difference by contributing to student success, faculty research, and cultural and educational programming. Donations of all sizes are vital and welcome." 
Read on to learn about the various LAII funds accepting donations and thank you for your consideration and support.
Latin American & Iberian Institute General Fund 
The Latin American & Iberian Institute General Fund supports the full range of LAII research, teaching, and outreach initiatives related to Latin America and Iberia. Donate to the general fund here. 
Latin American Studies Scholarship Fund 
This scholarship fund supports undergraduate or graduate students majoring in Latin American Studies, including dual-degree programs. Donate to the scholarship fund here. 
LAII Student Field Research Grant Fund 
These life-changing grants provide much-needed support for students initiating research in Latin America. They are often the first received by students who go on to become leaders in their fields. Donate to the FRG fund here.
Latin American and Iberian Institute Outreach Fund 
Funds are used for programs to further cultural and outreach activities for faculty, students, staff and community. Donate to the outreach fund here.