LAII affiliate faculty edit special issue for Journal of Latin American Geography
November 18, 2020 - Felina Maria de la Luz Martinez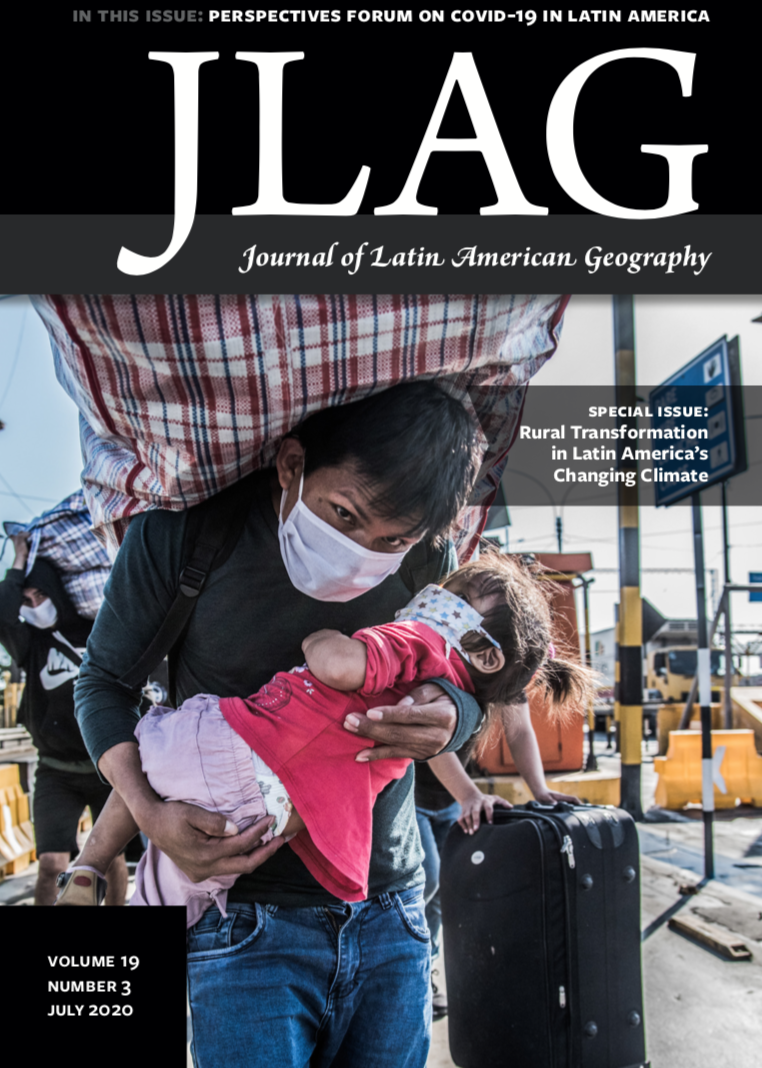 ---
Members of the Food, Environment, and Resilience Working Group (FER) recently edited a special issue in the Journal of Latin American Geography that examines how marginalized populations in rural Latin America are important agents shaping transformations within a changing climate.
The issue, titled Rural Transformations in Latin America's Changing Climate, highlights how climate disruption is part of a larger set of changes that rural people are facing in Latin America, and explores how climate and other challenges are negotiated on the ground. It was co-edited by LAII affiliates Marygold Walsh-Dilley, Jami Nelson-Nuñez, Benjamin Warner, and Chris Duvall. 
Dr. Marygold Walsh-Dilley, an Associate Professor in the Geography and Environmental Studies Department and FER collaborator, says the special issue emerged from a workshop held at UNM in 2018. That workshop, Rural Transformations in Latin America's Changing Climate, was funded in part through the Greenleaf funds provided by the LAII.
"Ben, Jami, Chris and myself are editors on this special issue with the Journal of Latin American Geography. We invited everyone who presented at the workshop to submit papers, and ultimately ended up with seven great papers on the theme Rural Transformation in Latin America's Changing Climate," Walsh-Dilley said. Warner, Walsh-Dilley, Nelson-Nuñez, and Duvall also co-authored the introduction to the issue.
Along with climate changes, the publication brings attention to other pressing priorities of change for those living in rural areas of Latin America.  
"In our early discussions, we talked a lot about how climate change is not always the priority for rural folks, that there are many other processes of change and transformations that they were going through that they sometimes had to prioritize over the longer-term processes of the climate. For instance, we also wanted to make sure to recognize changes in the political climate in Latin America," Walsh-Dilley said.
The main themes within rural transformation that the workshop focused on, Walsh-Dilley said, are water and water governance, agroecology, illicit economies and the drug trade.
"We always saw that changing climate referred to not just the ecological disruptions of global warming. There are lots of ways that climate change connects to other processes of change," Walsh-Dilley said.
The key successes of the publication Walsh-Dilley says are owed to the workshop where many interdisciplinary conversations were held between attendees.
"It was wonderful to bring together scholars and practitioners from across disciplines and geographic locations. At the workshop, people who might not otherwise get the chance were speaking to each other and engaging in work they might not have otherwise,"  Walsh-Dilley said.
Walsh-Dilley said another success brought on by the workshop was connecting senior and junior scholars, who both contributed to the journal publication. 
"It was important for us to create opportunities for graduate students and other junior scholars to interact, and we secured funding to help bring in these more junior scholars. This was successful, and not only did graduate students or other junior scholars participate in the workshop, but they also contributed papers to the special issue," Walsh-Dilley said.
"The LAII staff was absolutely essential to putting the workshop together. Without their administrative support and events planning expertise, we would not have been able to undertake the workshop at all. Also, in the earlier phases of the project, LAII provided us with a graduate student that helped coordinate meetings and supported us when we did get together. LAII also provided an important physical space for us all to meet. LAII helped us to build this collaboration, which will likely continue into the future," Walsh-Dilley said.