Remembering Joanie Swanson
January 29, 2021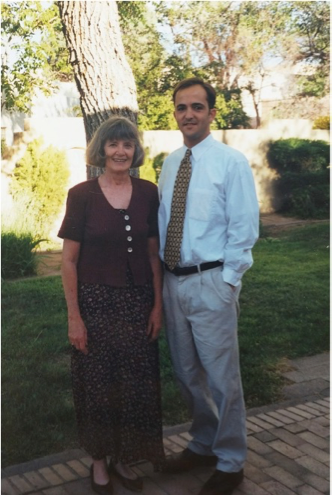 Joanie with LAS Alumnus Doug Hecock at the 1999 LAII Convocation
---
Joanie Swanson served as the Latin American Studies (LAS) academic advisor for 26 years from 1979 – 2005.  She was a beloved staff member who contributed much to the LAS program and the overall mission of the Latin American & Iberian Institute (LAII).  Joanie lived and worked in Bolivia before coming to UNM, and brought a strong commitment to supporting students in learning about Latin American cultures and languages.  MALAS alumnus, Doug Hecock (1999), fondly recalls how much thought Joanie put into her work.  Doug noted of his program experience, "Everyone was kind and welcoming.  But Joanie was so thoughtful and helpful and warm - she made us each feel as though we were the most important people there - that our challenges and questions were the most critical of the moment.  Joanie had hundreds if not thousands of advisees, and yet when I came to see her, she made me feel like I was that special one.  There wasn't a more comfortable place for me to be than in Joanie's office."  This sentiment is widely shared by other LAS alumni. 
Dr. Bill Stanley, who previously directed the LAS program and later the LAII, recalled, "Joanie helped make LAII fell like home for students and faculty alike. There is no other word for it than to say that she was beloved.  LAS is a complex program to navigate, and Joanie always took the time to work with students individually to make sure they could pursue their interests, and she also paid attention to their needs as human beings.  As a colleague, she was warm and funny, and had a goofy and self-deprecating sense of humor."     
Outside the office, Joanie was an avid outdoor adventurer, and traveled the world alongside her intrepid husband Gerry and their sons Scott and Kent, often visiting former students around the country and abroad. She attributed her sons' never getting in trouble as teenagers to the fact that she and Gerry often took them on highly unpredictable outdoor and travel adventures – there was no shortage of adrenaline moments in their young lives!  In the years after her retirement, Joanie could be found on her bike traveling unbelievable distances on the backroads of New Mexico, on a raft shooting rapids, or up on Cumbres pass on Nordic skis.  Joanie is survived by her husband, Gerry, her sons, Kent and Scott, and grandson Emiliano Swanson-Iglesias.  For more information about memorials, visit: https://www.strongthorne.com/obituary/Joanie-Swanson.