LAII Staff Member Vickie Nelson Honored with Staff Recognition Award
June 4, 2018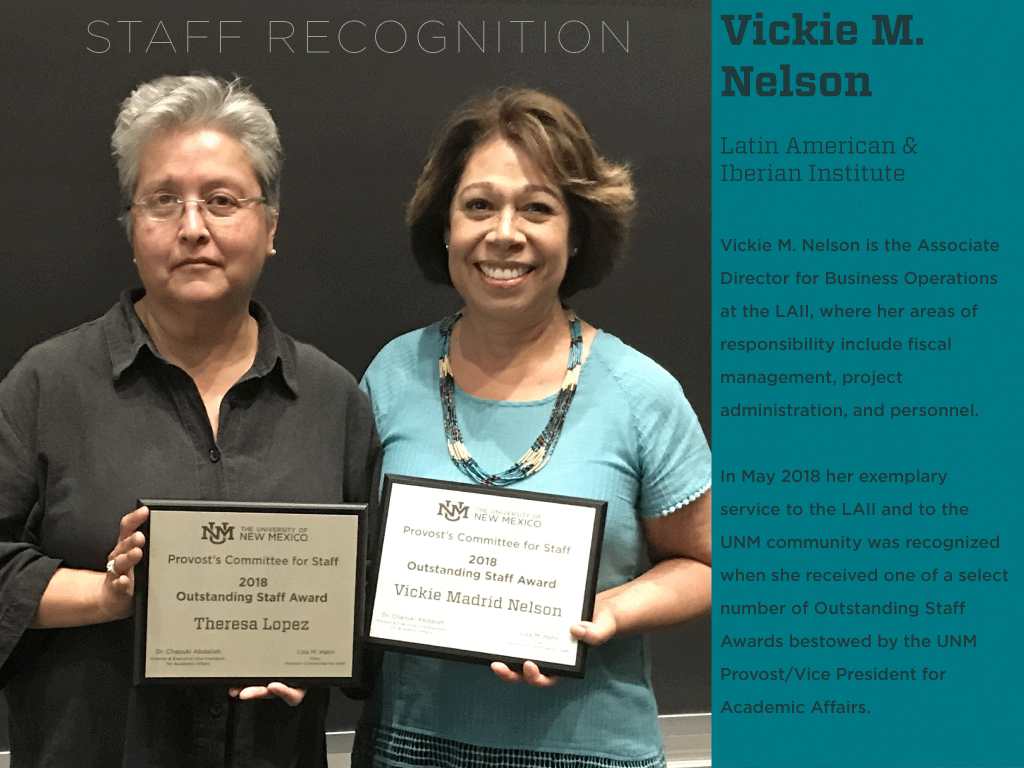 ---
The LAII is pleased to announce that Vickie M. Nelson, the LAII Associate Director for Program Operations, has been honored as one of three recipients of the 2018 PCS Oustanding Staff & Workgroup Award. Presented annually by the UNM Provost/Vice President for Academic Affairs, the award is coordinated by the Provost's Committee for Staff (PCS) to recognize outstanding individual staff and workgroups who have provided extraordinary service to the University. 
Recipients of the award are acknowledged not only for their extraordinary service to the UNM community, but also for exemplifying University values (Excellence; Access with Support to Succeed; Integrity; Diversity; Respectful Relations; Freedom; and Sustainability) in an exceptional manner, and for contributing significantly to their department.
Upon learning of the news, Dr. William Stanley, director of the LAII, observed that "Vickie Nelson has served UNM's scholars of Latin America for over 37 years with extraordinary skill, precision, and courtesy.  Studying or doing research in Latin America sometimes involves complicated administrative processes and international transactions, and Vickie is an expert at making things go smoothly so students and faculty can focus on learning. She is a warm and supportive person who makes students and faculty feel at home at LAII, and she makes UNM a better place. I am delighted that she has received this recognition, which is very much deserved."
In 2018, Vickie M. Nelson was recognized alongside Armando Bustamante (El Centro de la Raza), Theresa Lopez (Architecture), and EPAC and Anderson Success Workshop Committee. A certificate and a monetary award were presented to each individual staff selected, and certificates to the workgroup selected. A permanent plaque, listing the winners, will be on display in Scholes Hall.