Annual FRG Colloquium Highlights Student Scholarship
October 10, 2016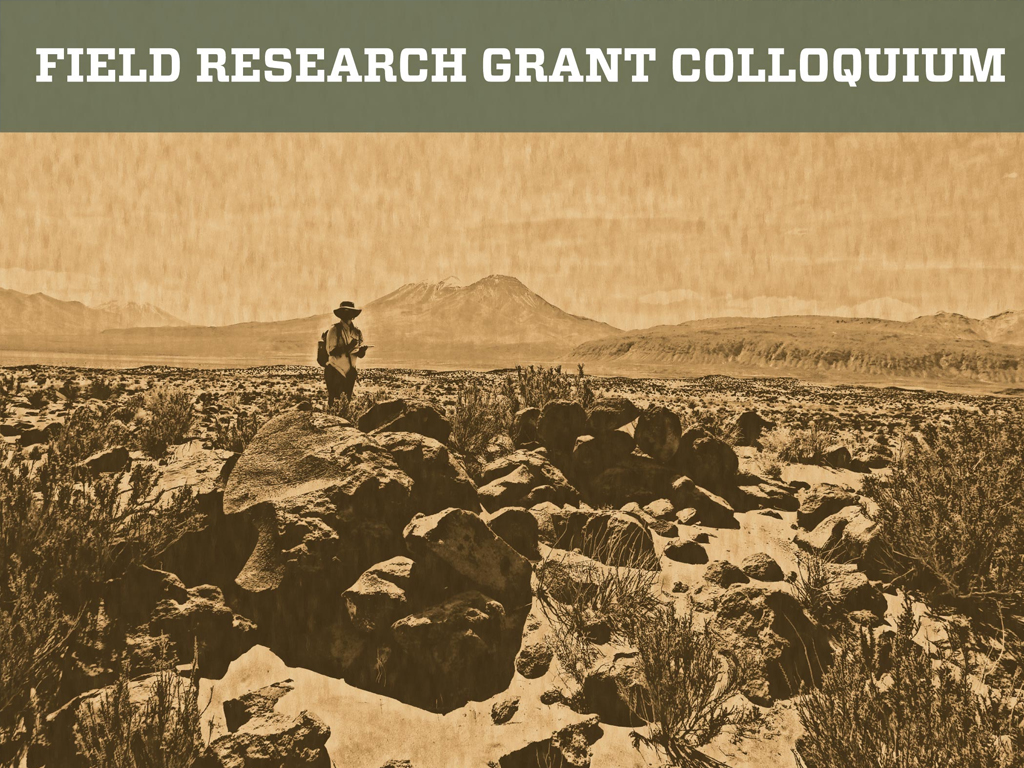 Image: Photograph of Shelby Magee conducting survey in Chile, Summer 2016.
---
On Friday, October 28, 2016, from 12:00-1:30 p.m., the LAII highlights graduate student scholarship with its second annual Field Research Grant (FRG) Colloquium and reception. Five recent FRG recipients will share their respective research experiences and findings in a series of presentations. Afterward, current and past FRG recipients and members of the LAII community are invited to mingle and learn more the exciting research initiatives of UNM's Latin Americanist graduate students. For reference, see the event flyer.
Funded in part by the Tinker Foundation, LAII Field Research Grants provide support for graduate students in any UNM department to conduct field work in Latin America. FRGs are meant to assist students in obtaining their first or second field research experience in Latin America. The grants are generally for fairly brief periods of research (typically two weeks to four months) and provide funding for airfare, in-country transportation and some expenses in the field. Awards are given annually each spring. For more information, see the complete description of Field Research Grant funding.
To learn more about other current and recent FRG awardees, please see the LAII's FRG profiles.
Below is more information concerning each colloquium presenter:
Naomi Ambriz: Afro-Cubans in Precarious Times
Abstract: On March 21, 2016 U.S. President Barack Obama stated, "I affirm that Cuba's destiny will not be decided by the United States or any other nation, Cuba is sovereign and rightly has great pride, and the future of Cuba will be decided by Cubans, not by anybody else." As President Obama upholds that Cubans will have sovereignty and agency to determine how Cuban and U.S. political reconciliations will take form, it is imperative that U.S. citizens continue to understand and learn from the historical and political genealogies that have informed U.S. and Cuba relationships. As an American Studies scholar currently working on Afro-Latino political identities, Ambriz analyzes how marginalized communities, such as Afro-Cubans are being affected by the socio-political and economic changes. In particular, she is interested in investigating how the internal cultural resistance of Afro Cubans will reshape and influence racial identities in capitalists and imperialist structures.
Biographical Summary: Ambriz is a second-year Ph.D. student in American Studies at the University of New Mexico. Her research interests center on the intersections of Afro Latino/a identities, transnational feminisms, feminist ethnography, performance theory, critical race and indigenous studies. More specifically, her current research explores Afro Latino subjectivities in Mexico, Cuba and U.S. Southwest practice and politics of resistance as social justice. She is also a founding member of the Social Justice Initiative at UC Davis.
 
Holly Brause: Mexican Agrarian Transformations: Lessons from the Chile Fields of Chihuahua
Abstract: In this presentation Brause uses data from her summer fieldwork in the chile growing regions of Chihuahua, Mexico to explore neoliberal transformations in Mexican agrarian policy. While many scholars have highlighted the Mexican state's abandonment of the rural countryside under neoliberalism, she explores the ways that the state's investment has shifted, rather than disappearing.
Biographical Summary: Brause is a fourth year Anthropology Ph.D. student in the Ethnology subfield. Originally from Astoria, Oregon, she completed her B.A. in Anthropology at Linfield College in McMinnville, OR before getting an M.A. in Latin American Studies at the University of Florida in Gainesville, FL. Holly grew up farming in Oregon and is enjoying mixing her agricultural background with her intellectual pursuits.
 
Teresa Drenten: The Process of Space: How Children in Paru Paru, Peru Conceptualize Their World Through Action
Abstract: In this presentation, Drenten will discuss her methodology, research process, and her beginning analysis for her project in Paru Paru, Peru. The participants of her study demonstrate that activity, movement, and enterprise define a fluid and adaptive space. Movement is key to life in Paru Paru: nothing stagnates.
Biographical Summary: As a Master's Candidate in the Latin American Studies and Community & Regional Planning Dual Degree, Drenten chose to focus her studies in the context of Rural Peru. She hopes to create relevant research projects that expand the inclusion of children and young adults, while also building their capacities as community researchers. Outside of work and the University, Drenten enjoys practicing yoga and spending time with her two pugs (Boomer and Gus Gus) and her partner Andrew.
 
Yuliana Kenfield: A Community-Based Participatory Study in Cusco: Students' Views from the Andean Mountains
Abstract: The purpose of this presentation is to share a) the initial results of a socio-linguistic survey study conducted in Cusco, Peru; and b) reflections that emerged during my collaboration with bilingual Quechua <> Spanish college students in Cusco during the initial phase of this community-based participatory research.
Biographical Summary: Kenfield is a Ph.D. student in the Department of Language, Literacy, and Sociocultural Studies. Yuliana strives to understand the language practices of indigenous college students as related to their identities and learning formation. Methodologically she is keen about applying participatory approaches in research. When she is not involved in research and/or scholarly work, she enjoys learning about the world with her twins (T'ika and Chaski), writing poetry, learning Quechua songs, and occasionally bird-watching with her biologist husband.
 
Shelby Magee: Can You See Me Now? Visibility Analyses of Ritual Spaces in Northern Chile
Abstract: Using Visibility Analyses (VAs) from sites surrounding the hybrid Inka administrative center of Turi in the Atacama Desert region of northern Chile, Magee investigates the continuation of pre-Inka ritual after the Inka occupation of Turi. With these analyses, she examines the role of agency of local groups under Inka imperial rule in their responses to imperial influence.
Biographical Summary: Magee is a second-year graduate student in the Archaeology Program of the Anthropology Department. Her research interests focus on the use of geospatial analysis and landscape archaeology in Peru and northern Chile to answer questions on the cultural geography of the Inka Empire and the processes by which non-Inka polities were incorporated