Acclaimed Authors Alma Flor Ada and F. Isabel Campoy Speak on Latino Heritage
October 27, 2016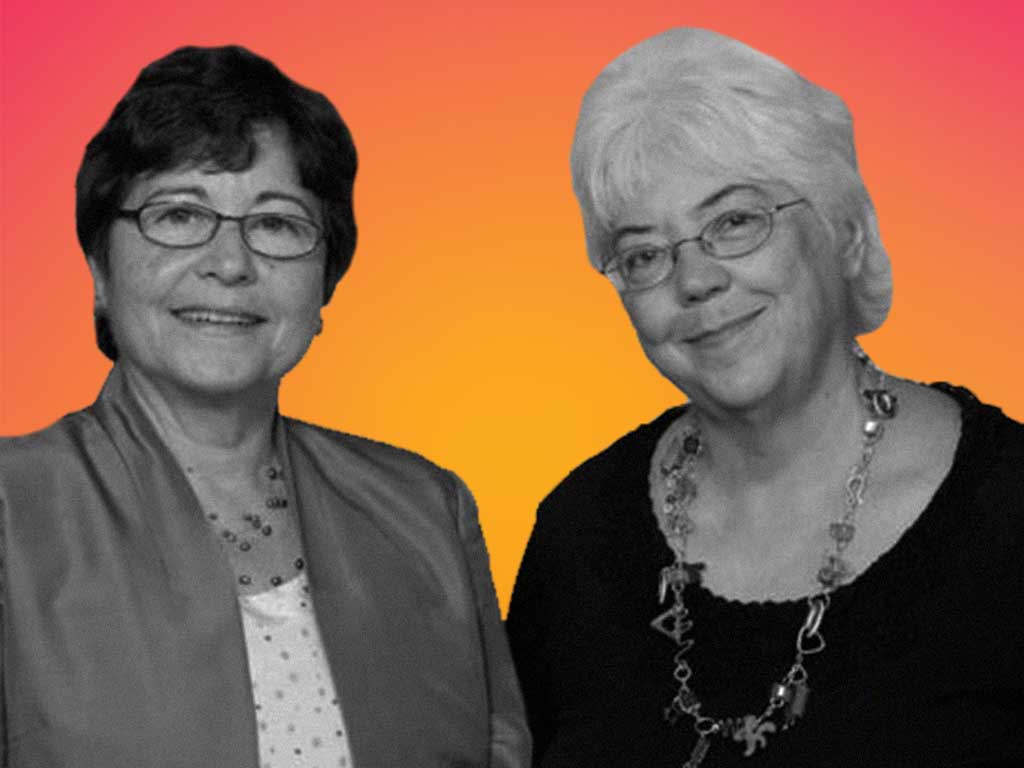 Image: Photograph of authors.
---
Acclaimed authors and educators Alma Flor Ada and F. Isabel Campoy will speak on November 7, 2016, offering a presentation about the rich cultural heritage of Latinos and their contributions to honoring the past and creating the future. This event will be held from 5:30-7:00 p.m. at the National Hispanic Cultural Center, Domenici Education Building, Grand Hall. The evening is organized by the LAII in partnership with Instituto Cervantes of Albuquerque and the National Hispanic Cultural Center. Teachers may request to receive certificates of professional development for attending. For reference, please see the event flyer.
Both presenters are remarkable forces in the field of children's literature and multicultural education focused on literacy and bilingual teaching. They are prolific writers and dedicated educators. Traveling across the country to offer presentations to teachers, students, and community members, they bring a wealth of firsthand experience regarding creative teaching strategies for imparting meaningful cultural information to students, particularly students who identify as Latinx or Hispanic
Alma Flor Ada is a Professor Emerita at the University of San Francisco; an international, award winning author of over 200 books for young readers; and a leading mentor and philosopher of bilingual education in the United States. Her work has centered in topics of Critical Pedagogy, Bilingual and Multicultural Education, Literacy and Biliteracy and Authorship. She has done extensive work on the relationship between Home and School. She obtained her PhD from Universidad Católica, in Lima, Perú, and did postgraduate work at Harvard as a Research Scholar in the Radcliffe Institute. She has been awarded many literary prices, among others the Pura Belpré Award, the Christopher Award, and The Once Upon a World Award (from the Museum of Tolerance). She has received the Lifetime Achievement Award from the California Association for Bilingual Education (CABE) and the Hispanic Research Award from the American Education Research Association (AERA), among many others.
F. Isabel Campoy is the author of numerous children's books in the areas of poetry, theatre, stories, biographies, and art, and as a researcher she has published extensively bringing to the curriculum an awareness of the richness of the Hispanic culture. As an educator, she specializes in the area of literacy and home school interaction, topics on which she lecturers nationally. Overall, Campoy is an internationally recognized scholar devoted to the study of language acquisition, a field in which she started publishing in l973 after obtaining her degrees in English Philology from Universidad Complutense in Madrid, Spain; Reading University in England, and UCLA in the United States. Campoy has received the Laureate Award from San Francisco Public Library, ALA Honor Award, The Junior Library Guild Selection (nine times) and the International Latino Book Award for Children's Literature. She is the recipient of the 2016 Ramón Santiago Award of the National Association of Bilingual Education, among others, and she is a member of the North American Academy of the Spanish language.
The LAII is committed to expanding awareness, knowledge, and understanding of Latin America and Iberia among K-12 educators so that they can produce, enhance, and expand knowledge of Latin America within their classrooms. To that end, it is our privilege to invite experts and specialists in the field, such as Ada and Campoy, to share their knowledge with K-12 educators in the Albuquerque community.
For more information about the LAII's programming for K-12 educators, visit our page dedicated to K-12 resources.