MALAS Alumna Interns at Smithsonian Institution
September 8, 2016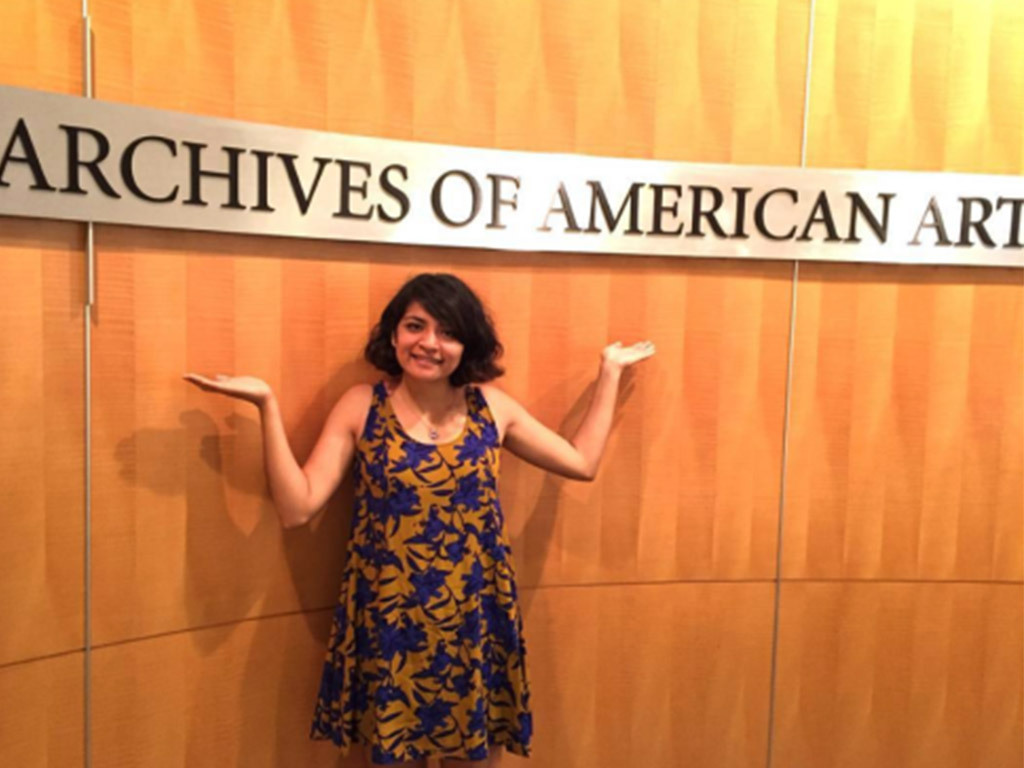 ---
This summer, MALAS alumna Priscila Hernóndez was a fellow in the Latino Museum Studies Program at the Smithsonian Institution in Washington, D.C.
Having graduated from The University of New Mexico in May 2016, the fellowship built on Priscila's recent work as a graduate assistant at the UNM Latin American & Iberian Institute, where she supported archival work with UNM's Latin American Collections at University Libraries.
Priscila's academic interests include nationalism and Latinx representation in public spaces, two areas that were at the heart of her assignment at the Smithsonian, where she researched Latinx content in art at the Archives of American Art. Of her time there, she stated, "Briefly, what I found is that there is a severe lack of Latinx representation in what people of the U.S. know as the development of American Art." In addition to researching, she also had the opportunity to work with Josh T. Franco, Ph.D., the Archive's Latinx Collections Specialist, for whom she created a plan for collecting the personal papers of established, contemporary Nuevomexicano artists. As part of this effort, Priscila compiled a list of artists in northern New Mexico, some of whom Franco will visit in the spring of 2017.
Coming so closely on the completion of her MALAS degree, Priscila found that her success in the fellowship was informed by her time at the University of New Mexico. While a graduate student, Priscila had developed a deeper interest in and appreciation for museum studies given her time working with University Libraries, where she helped archive materials within the Latin American Collections. Moreover, her academic experience of conducting interdisciplinary research and studying Chicana literature within the MALAS degree proved useful for her fellowship work, as she was tasked with navigating and understanding the archives of 20th century Latinx artists. Additionally, many of her UNM Latin American cultural history courses helped her to develop a theoretical framework about Mexican representation within public spaces, which she saw in practice through the spaces of the Smithsonian.
Overall, Priscila said she looks back on her experiences at the Smithsonian and at UNM as having expanded her understanding of the world of museum professionals who have devoted their lives to transforming cultural institutions.
Photograph of Priscila during Smithsonian Fellowship. Reprinted from the Smithsonian Latino Center.