LAII Leads Educators to Cuba to Explore a Revolutionary Perspective on Education
September 1, 2016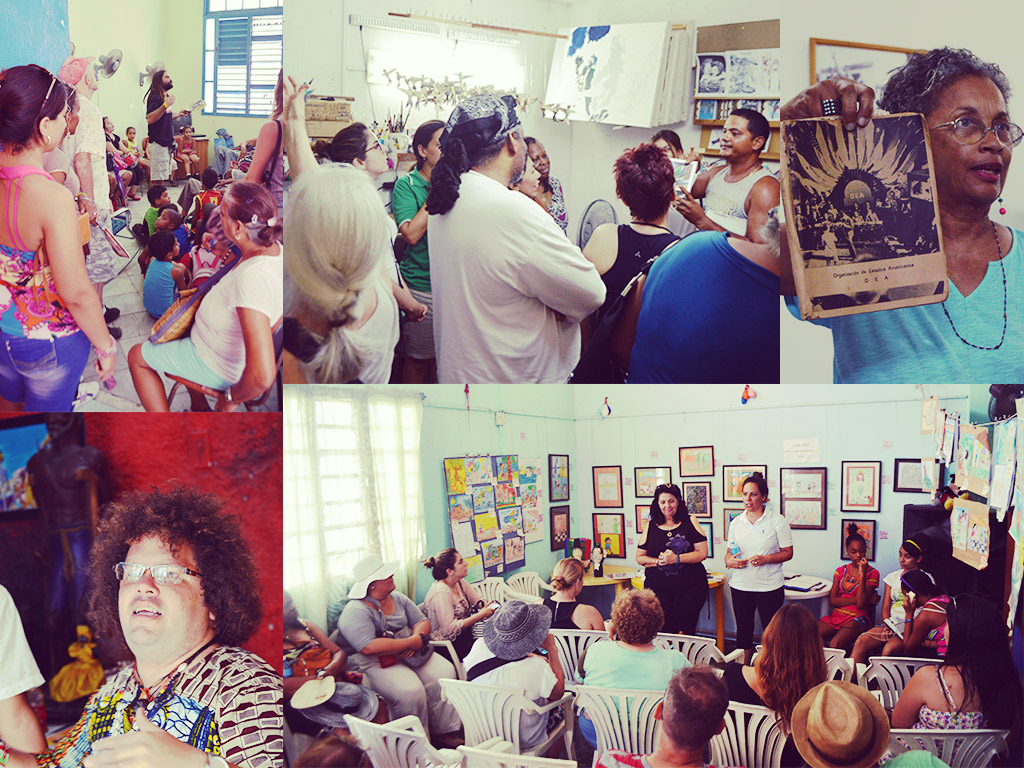 ---
In July 2016, the LAII organized a nine-day trip to Cuba that brought together educators from across the country to learn about education practice and philosophy on the island. Sponsored by the LAII in partnership with the Kimberly Green Latin American and Caribbean Center at Florida International University (FIU) and the Cuban organization Girasol, the trip, titled "A Revolutionary Perspective on Education," explored topics such as literacy education, alternative learning models, teacher education, civic engagement, and social responsibility.
18 individuals participated from New Mexico, Florida, Ohio, and Washington, D.C., bringing together their collective experiences in education practice, policy making, and administration, along with health and medicine, library sciences, and community development.
Prior to leaving for Havana, the group convened in Miami, Florida, for a day-long seminar that introduced and contextualized the issues that would be examined while abroad. FIU faculty presented on topics such as Cuban art, culture, immigration, race, and identity.
Once in country, the program provided multiple opportunities for the U.S. educators to speak with and hear from Cuban individuals involved in formal education settings. The group learned about the Cuban educational system through formal lectures offered by university professors, and presentations and small group conversations with K-12 teachers and administrators.
In addition to learning about the formal education system, the group visited non-profit community projects, including Espiral, Barrio Habana, El Niño y la Niña, and Okan-Tomi. These intergenerational initiatives bring together youth, elderly, and professionals from their respective neighborhoods to work on shared needs and interests, from planting trees to painting murals.
As Katrina Dillon, one of the program leaders, observed, "I was impressed by the commitment and creativity of these organizations. They go beyond community service and volunteerism, instead creating a space for community education in Cuba. They're confronting issues such as sexism, ageism, and homophobia, while simultaneously promoting values such as environmental sustainability and cultural preservation."
The group learned about the importance of cultural expression and preservation in Cuba through visiting Fusterlandia, the home and neighborhood of the renowned mosaic artist José Fuster; Callejón de Hammel, an Afro-Cuban art project; the Museum of Fine Arts of Havana; and artists' studios in Las Terrazas. Participants also attended performances by the Afro-Cuban folkloric dance company Okan-Tomi and the National Ballet of Cuba.
After returning to the U.S., Eric Dwyer, an associate professor of education at FIU and one of the program leaders, shared the following reflection: "These people offer their hearts, their wisdom, and their friendship in non-sterile environments…we see numerous venues where top down teaching practices are successfully eliminated in favor of discovery-based activity that helps students feel part of their community, even building upon the strengths of it as educational stepping stones. And when we saw these examples, we felt we were seeing the best of our profession in front of us."
The program's success is already prompting conversations around next year's trip.
For more information, please visit the program website.