LAII Honors Affiliated Faculty for Book Publications
May 11, 2016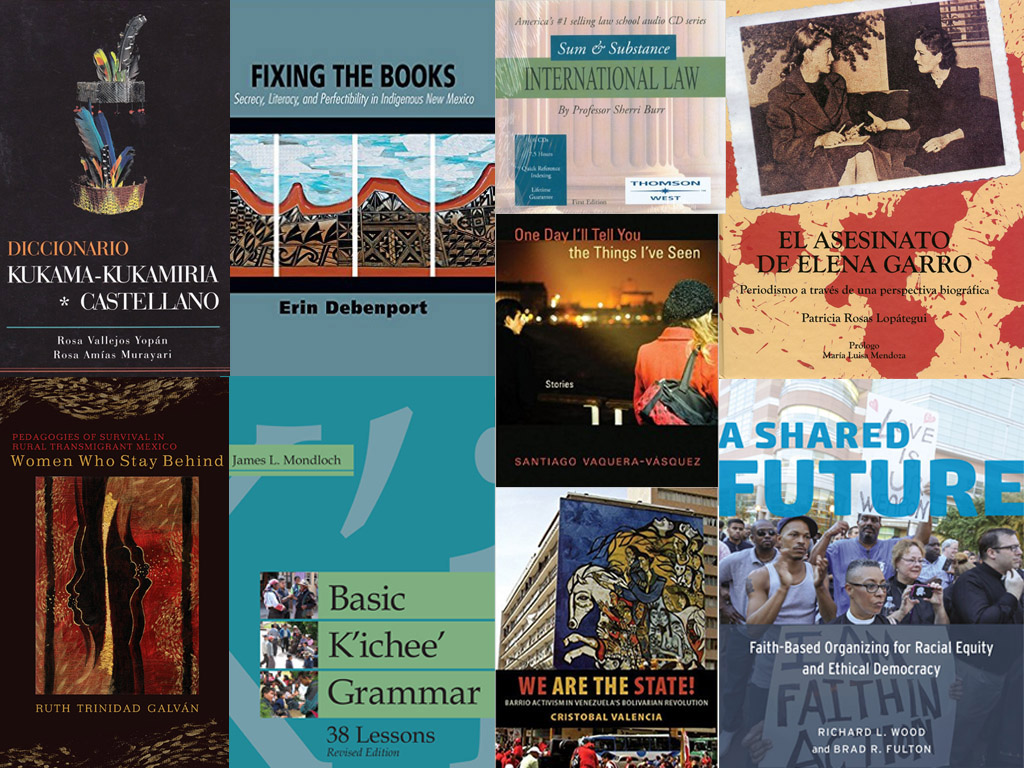 Image: Compilation of selective books written by the honorees.
---
For the third year in a row, the LAII has honored its affiliated faculty members who published books in the previous year.
On April 29, 2016, the LAII proudly hosted a reception to honor affiliated faculty who had published books in 2015. The event, hosted alongside our annual Affiliated Faculty Concilium meeting, provided the opportunity to reflect on the breadth and depth of scholarship shared by Latin Americanist and Iberianist faculty across campus.
The following authors were acknowledged for their 2015 book publications:
Sherri Burr: Sum and Substance on International Law (Second Edition)
Erin Debenport: Fixing the Books: Secrecy, Literacy, and Perfectibility in Indigenous New Mexico
Lawrence Guy Straus: The Red Lady of El Miron Cave: Lower Magdalenian Human Burial in Canabrian Spain; Solutrean Studies: Human Adaptations to the Last Glacial Maximum in SW Europe (editor and contributor)
James Mondloch: Basic K'ichee' Grammar
Patricia Rosa Lopategui: El asesinato de Elena Garro. Periodismo a traves de una perspectiva biografica
Ruth Trinidad Galvan: Women Who Stay Behind: Pedagogies of Survival in Rural Transmigrant Mexico
Cristobal Valencia: We are the State! Barrio Activism in Venezuela's Bolivarian Revolution
Rosa Vallejos Yopán: Diccionario kukama-kukamiria / castellano
Santiago Vaquera-Vazquez: One Day I'll Tell You the Things I've Seen
Richard Wood: A Shared Future: Faith-Based Organizing for Racial Equity and Ethical Democracy