UNM School of Architecture and Planning Hosts 'Encuentro Iberoamericano'
April 18, 2016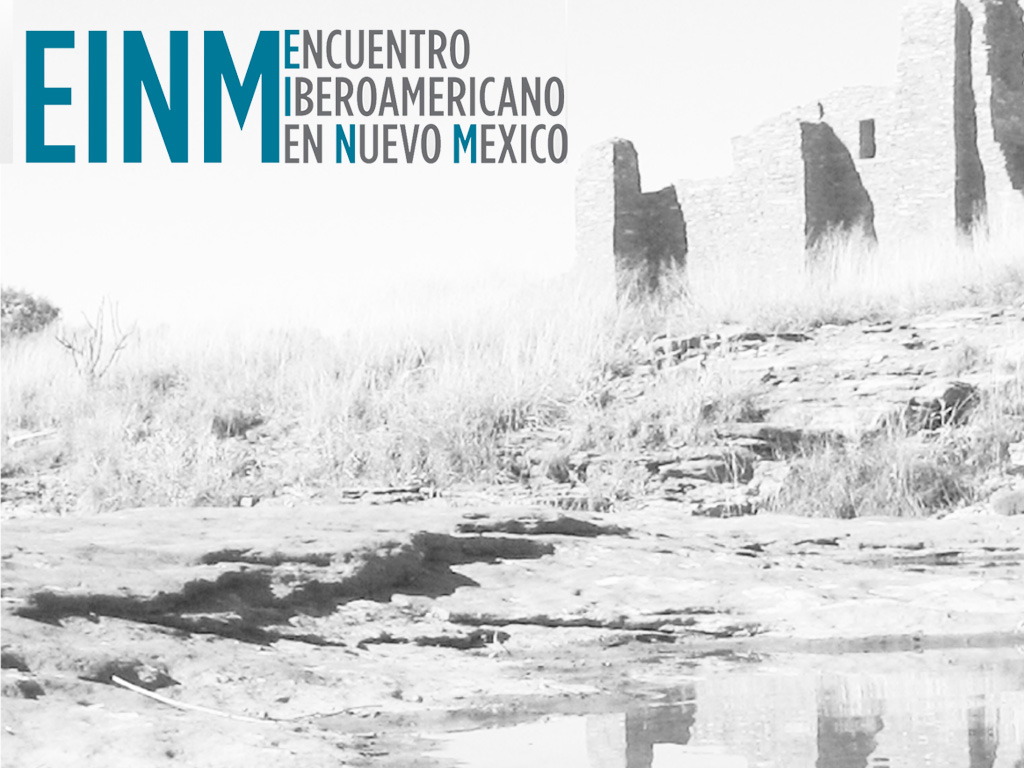 Image: Adapted from event poster.
---
The LAII is pleased to recognize the School of Architecture and Planning's work with the Encuentro Iberoamericano en Nuevo Mexico. Below we share a modified version of the UNM Newsroom article featuring the project.
The University of New Mexico School of Architecture & Planning presents Encuentro Iberoamericano en Nuevo Mexico (EINM), a multi-day series of events that explore Spanish architectural and cultural heritage in Iberoamerica.
On Friday, April 15 from 8 a.m. to 10:30 a.m. in George Pearl Hall room P104, the Patrimonio Histórico + Cultural Iberoamericano (PHI) Workshop is set. Francisco Uviña, lecturer in the landscape architecture program and interim director of the school's Historic Preservation and Regionalism graduate certificate program, is coordinating both the EINM and PHI events.
Of PHI, he said, "The Spanish government is reaching out to the countries of the world which have Spanish history, influence and culture. They are particularly interested in the preservation of places in the built environment that are representative of Spanish presence."
PHI has a presence, through various designated universities, in Colombia, Argentina, Chile, Brazil, Uruguay, and Peru, soon in African countries and now in the United States through the University of New Mexico School of Architecture & Planning.
"The goal is to create an international group of countries with Spanish heritage. It is designed to be more of a student than faculty initiative," Uviña said. The goal, according to their website, is to create a digital platform that serves to better understand the strategic value of heritage that helps manage the common legacy.
The workshop is designed to present PHI as a project with the global participants to discuss collaboration, participation and partnerships as a U.S. network.
On Friday, at 5:30 p.m. Rafael Guridi Garcia, Universidad Politécnica de Madrid, and coordinator of the PHI network in Spain, presented the Pearl Fellow Fund Lecture. Guridi is a Ph.D. architect from the Technical University of Madrid. His dissertation was on Hans Scharoun's work in Berlin's interwar period and it earned him both an honorable mention at the university as well as Arquitesis prizes. He is currently a professor of architectural design and theory and techniques of restoration. He has also taught at SEK University, Segovia and the Comillas University in Madrid.
Since 1990, he leads, with Christina Tartás Ruiz, the architectural office guritartas Arquitectos, which has won numerous awards in architectural competitions. Their work has been featured in various publications.
Previous events include Ginés Garrido delivering a short introduction of IXBIAU, the IX Bienial Iberoamericana de Arquitectura y Urbanismo exhibit, which he curates. The exhibit opened at 7 p.m. on Wednesday and will remain up until Friday, April 29 in the George Pearl Hall Larry and Dorothy Rainosek Gallery.
Garrido also talked about his collaboration in the Madrid Rio Project.
Garrido is a 1989 graduate of the Polytechnic University of Madrid, his thesis winning the Premio Especial. Aside from his teaching at the same university, he is also a partner in Francisco Burgos & Garrido, which has developed projects worldwide. The office works collaboratively with other architects in Spain and other countries. They develop residential, cultural and projects beyond urban design, such as the large urban intervention in the Madrid Rio Project. They also designed the Teatro Casas Ibañez, the municipal theater in Albacete, Spain, Garrido's hometown.
Adriana Cuéllar and Marcel Sánchez, founders of CRO Studio, which won the Progressive Design Award for the Modulo Prep Library in Tijuana Mexico, also presented about their work. Cuellar and Sánchez established CRO Studio in 2007 as an architecture and research practice in the Tijuana/San Diego area as a platform to extend design responses sensitive to the complexities today.
Cuéllar received her bachelor of architecture from Cal Poly San Luis Obispo and a master's in Design Studies from Harvard University Graduate School of Design where she received the Annual Award for Excellence in Housing Design. She is a recipient of the 2006-2007 Katherine Edwards Gordon Rome Prize in Design by the American Academy. Currently she is an adjunct professor at the University of San Diego and at The New School of Architecture and Design.
Sánchez received his bachelor of architecture from Iberoamerican University in México City and a master's in architecture from the University of California, Los Angeles, where he was awarded the Director's scholarship award. Currently he is a full time assistant professor at Woodbury University San Diego. He has been critic, invited lecturer and taught at University of Pennsylvania, Philadelphia University, RMIT, South Eastern University in China, Iberoamerican University and The New School of Architecture and Design.
A larger contingent of PHI representatives from Spain were also in attendance and stayed through Friday.