Border Door Exhibit Highlights Central American Immigration
March 21, 2016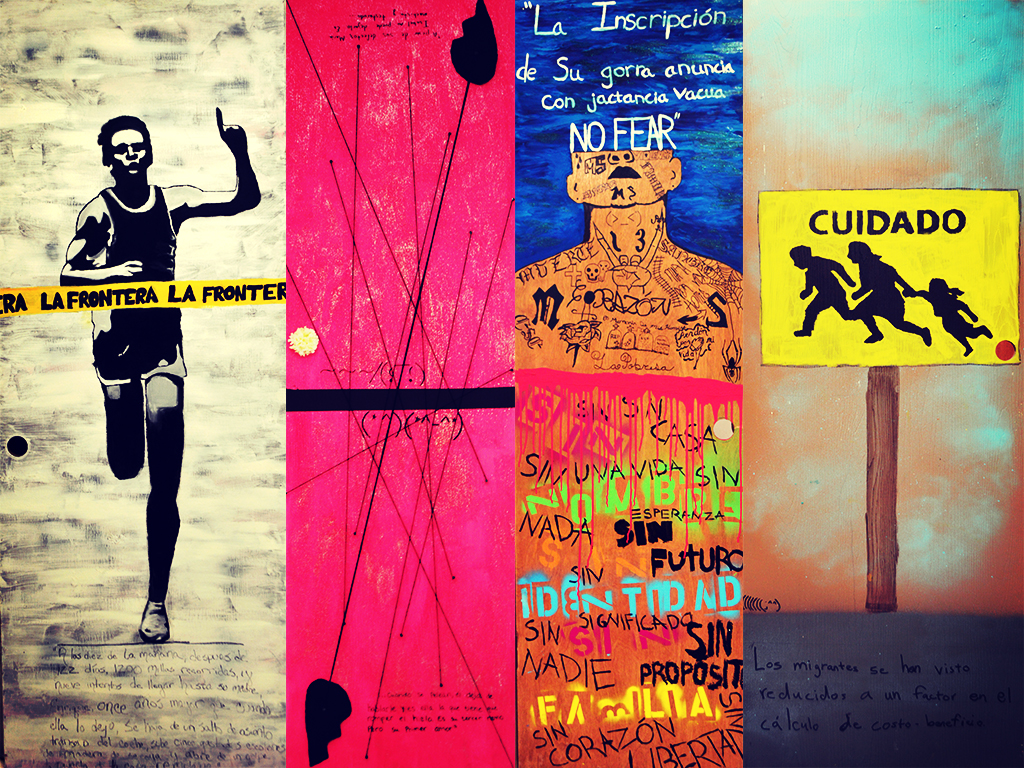 Image: Compilation of selected student artwork from the exhibit.
---
As Spring Break comes to a close, a unique exhibit will greet those returning to campus. "Border Doors and the Unmasking of the Zones of Meaning," a dispersed exhibit consisting of eighteen full-size doors decorated with mixed-media collages, is now on display in selective venues around campus and in the community at the National Hispanic Cultural Center. Its striking displays call attention to the traumatic experiences of Central American immigrants and the dehumanizing media discourse that portrays them.
The doors were created by high school students enrolled in "The Neglect of Women Workers and the New Era of Hope," an advanced Spanish-language course at Sandia Prep taught by Claudio Pérez, a faculty member within the school's Modern Language Department. In the course, Pérez encourages students to think deeply about issues related to immigration, from immigrants' lived experiences to the complex historical relationship between the United States, Mexico, and Central America. Students studied this topic in their classrooms in Albuquerque and through an in-person trip to the U.S-Mexico border when they visited the Border Immersion Program at Iglesia Luterana Cristo Rey in El Paso, Texas. Throughout the semester, Pérez relied on Nazario's book, Enrique's Journey, to present a compelling and informative account of immigrants' experiences traveling through Central America to the United States. At the end of the term, Pérez invited the students to express their thoughts, responses, and realizations by using the doors as canvases for mixed-media collages.
The exhibit is presented on behalf of the Lobo Reading Experience as a collaboration between Sandia Preparatory School, the National Hispanic Cultural Center, and multiple UNM entities, including Chicana and Chicano Studies, Department of History, Department of Spanish & Portuguese, El Centro de la Raza, Latin American & Iberian Institute (LAII), Maxwell Museum of Anthropology Hibben Center, Office of Student Academic Success, Southwest Hispanic Research Institute, and University Libraries. Each sponsor hosts one or more of the doors, with the majority on display at Zimmerman Library. The dispersed display encourages cross-campus collaboration and exploration.
This collaborative initiative is organized as part of a year-long comprehensive program of curricular and co-curricular activities relating to the 2015-16 Lobo Reading Experience selection, Enrique's Journey. Written by Pulitzer Prize-winning journalist Sonia Nazario, this non-fiction account documents the traumatic and harrowing experience of a young Honduran boy, Enrique, as he makes the journey alone from Honduras to the United States to reunite with his mother eleven years after she left her home country in pursuit of a better life for her family.